Mother's Day is the perfect time to get a personalized gift that is amazing yet still easy on the environment and your wallet.  While growing up my mother always told us not to waster our money on gifts but to make something from the heart.  As an adult this is a novel idea but not realistic.  However, Oh, Little Rabbit is a perfect solution.  They created from-the-heart home gifts that are also printed and drawn at home.  They can create custom designs or show you one of their own that can be printed onto just about any fabric. Your mother would likely love an unique apron, napkins, or a pillow with a one-of-a-kind screen print.
The creators of Oh, Little Rabbit started the business without the particular intention of starting a business.  They loved making and completing their own prints and often gave them away as gifts.  But the prints were of such high quality that many of their friends and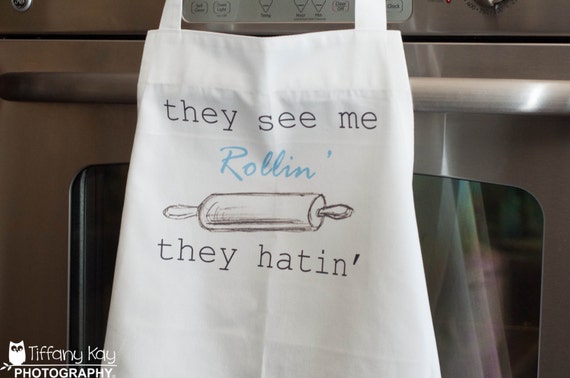 family members began putting in requests.  After a short time, they decided to make a go of it full time and hence Oh, Little Rabbit was born.  Now, they provide custom prints and designs for anyone who appreciates art.  The great part about these prints is that they are truly are that can be worn and used.  The owl print on your apron can be admired while cooking.  The donkey prints on your pillows will amuse you while you sleep on them.  You can also request tapestries and other wall hangings to decorate your home.  All prints from Oh, Little Rabbit come on organic cotton and with nontoxic ink.  Your unique home decor is socially responsible and environmentally friendly.  This is a way better option than buying something for your family that comes from a giant department store that gets its products from sweatshops overseas.  When you want to get your mother something extra special for Mother's Day, a custom handprinted apron, t-shirt, or napkin would definitely brighten her day.
Oh, Little Rabbit provides tons of different options for the whole family that displays beautiful custom prints.  They make custom baby t-shirts and onesies that are huge hits.  They also have separate kitchen and home decor options as well as miscellaneous items like tote bags and wall canvases.  They make everything in their own shop and draw their own designs.  The creators even pack and ship all orders themselves!  Your mother will love how thoughtful your gift is for her because they so clearly come from the heart.  She doesn't want some last-minute gift from Target, but something that was thought through and feels meaningful.  You can get that when you order from a custom printing shop that sends out each order with a little bit of their own love.  Have a pillow made with a print that means something special to your mother, like a drawing from when you were younger or a certain image that she already holds dear.  You won't make the wrong choice by finding something extra special for your mother on her special day.